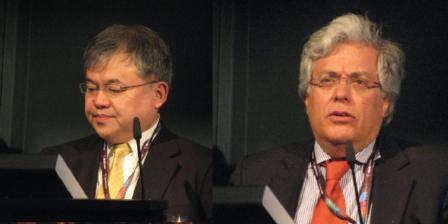 In a Bolton Medical sponsored event, Piergiorgio Cao, Rome, Italy, and Toru Kuratani, Osaka, Japan, both presented their experience with the company's Thoracic Arch Branched Device. Kuratani also presented his experience at the CX Complex Edited Live Cases and Case Reports.
Cao spoke to delegates about complex cases in which deployment of the Thoracic Arch Branch device was successful using single- and double-branches. Cao showed 3D CT images that indicated the successful use of the device in single branches in five cases (including ascending and descending aorta dilatation, arch aneurysm, pseudoaneurym, and endoleak amongst other comorbidities such as diabetes and hypertension). He commented that final angiograms of these cases were good.
With the double-branch device, Cao spoke about one patient with a thoracic aortic aneurysm involving the left subclavian artery with no proximal neck posterior to the left circumflex coronary artery (the left circumflex coronary artery and the iliac artery were also very close together). He reported that this was successful but the patient had a type 2 endoleak, which was due to be treated in the coming weeks.
Referring his experience with the device, Kuratani reviewed 3,015 cases of aortic aneurysms. Of these, 2,383 had been treated with a stent graft. He also showed a video to delegates of his team performing a debranching thoracic endovascular aneurysm repair with the Bolton Medical device.
The arch branch technology (based on the Relay non-bare stent plus platform, intended for zone 0 deployments), according to Bolton Medical, incorporates a proximal clasping mechanism intended for repositioning and a V-patch inner sheath for expansion and optimal alignment.
The (single and double) branch graft is expected to be examined via data collected by the company, from further clinical experience and a trial of the branched devices from centres preforming thoracic abdominal aneurysm repair. In phase I of this analysis, the single branch device will be tested in five institutions in six cases. In phase II, the double branch device will be assessed in six cases across six institutions.